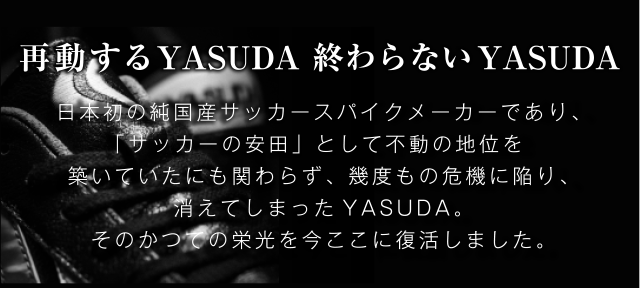 List of ambassador / contracted player articles
Ryota Sakamoto (Vespa Oita Hopeiro)

Ryota Sakamoto, Manager of Vespa Oita and Equipment (Hopeiro).
We are also involved in the development of spikes for YASUDA.
interview

Director Yoshizumi Ogawa (Director, FC TIAMO Hirakata)

Directed by FC TIAMO Hirakata Yoshizumi Ogawa. He also wears a Yasuda spike when he shoots the legendary middle shot that ended in the 2003 High School Championship Finals and close battle with Kunimi High School. After retirement in 2020, YASUDA continues to support Ogawa.

Yoya Himeno (Fujieda MYFC)

Fujieda MYFC, Yuya Himeno. Himeno, who has the nickname of Japanese-made singer, runs around the pitch indefinitely, wearing spikes from YASUDA, picking out the starting point of attack and pinch buds.

Kaede Sato (Mynavi Vegalta Sendai Ladies)

Mynavi Vegalta Sendai Ladies, Kaede Sato. YASUDA's first Nadeshiko Rieger. He has been elected to the Japan National Team by generation. In 2013, he was first elected to Japan Women's A National Team. As a futsal representative, he has a history of participating in international competitions and regrets his extraordinary talent.

Lee Han-soo (FC Machida Zelvia)

FC Machida Zelvia Lee Han-jae. Joined Sanfrecce Hiroshima after graduating from high school. Joined FC Machida Zelvia through Sapporo and Gifu. He made a bold dribble breakthrough and contributed with goals and assists.

Takashi Uryu (Vespa Oita)

Verspa Oita, Takashi Uryu. Transferred to Oita from the 2019 season. He also has experience of the U-17 Japan National Team, and the team runs on the 10th pitch.

Yudai Sanmon (Ariya Omiya)

Omiya Ardija and Yudai Mimon. From the 2020 season, played as captain at Omiya Ardija in Saitama Prefecture.

Hayato Kobayashi (Ganador Footgolf Club)

Hayato Kobayashi. After a career as a soccer player, became a foot golfer. Scheduled to represent Japan in the "4th FootGolf World Cup" to be held in Japan in 2021.