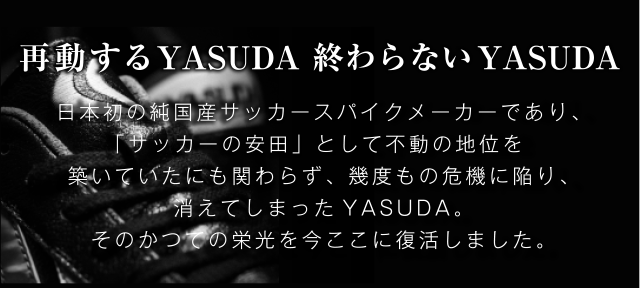 List of ambassador / contracted player articles
Yudai Sanmon (Ariya Omiya)

Omiya Ardija and Yudai Mimon. From the 2020 season, played as captain at Omiya Ardija in Saitama Prefecture.

Yojiro Takahagi (FC Tokyo)


FC Tokyo, Yojiro Takahagi. He has won abundant winning experiences and won the Best Eleven and J-League Outstanding Player Awards.
Convened many times to represent Japan, including by age group.

HORIME Yuki (Sagan Tosu)

Sagan Tosu, Horime Yuki.
Ventforet Kofu -Roasso Kumamoto-Ventforet Kofu-Kyoto Sanga F.C. -Ventforet Kofu -JEF United Ichihara/Chiba -After working in Montedio Yamagata, he made a full transfer to Sagan Tosu in 2022.

大畑歩夢選手(浦和レッズ)

浦和レッズ・大畑歩夢選手
サガン鳥栖U-18 →サガン鳥栖 →浦和レッズ。

Ryota Sakamoto (Vespa Oita Hopeiro)

ヴェルスパ大分のマネージャー兼エキップメント(ホペイロ)、阪本 遼太氏。
YASUDAのスパイク開発にも携わっていただいてます。
インタビュー

Director Yoshizumi Ogawa (Director, FC TIAMO Hirakata)

JFL・FC TIAMO枚方 小川 佳純監督。就任一年目にしてチームをJFLに昇格させる手腕を発揮。2003年の高校選手権決勝、国見高校との接戦で決着をつけた伝説のミドルシュートを放ったときもYASUDAのスパイクを着用。

Directed by Takuya Takagi

Directed by Takuya Takagi. He also played for the Japan national team as a player. After retiring, he demonstrated his skills as a coach and manager mainly for J.League teams.

姫野宥弥選手(カターレ富山)

カターレ富山、姫野宥弥選手。2021シーズンより、大分トリニータからカターレ富山へ完全移籍。

佐藤 楓選手(マイナビ仙台レディース)

マイナビ仙台レディース、佐藤 楓選手。YASUDA初のなでしこリーガー。世代別日本代表選出歴を持ち、2013年には日本女子A代表に初選出。フットサル代表としても国際大会に出場した経歴を持ち非凡な才能を遺憾なく発揮する。

UCHIDA Kenta (Ehime FC)


Kenta Uchida of Ehime FC. He made his professional debut as a top promotion from Sanflecce Hiroshima Youth. In the 2021 season, he made a full move to Ehime FC, where he had the most careers so far.