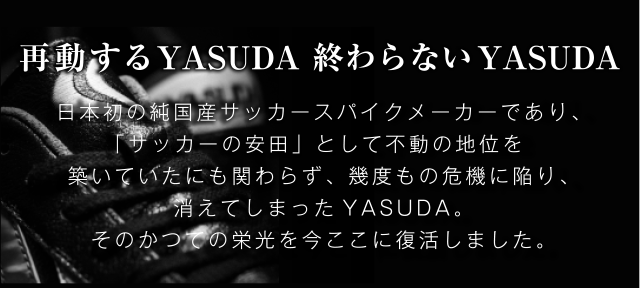 List of articles published in the media
Published in Soccer Digest

An article about YASUDA was published in the soccer digest "September 10, 2020 issue No.1465" released on August 27, 2020.
From the reprint to the mindset of YASUDA's founding, detailed coverage articles will be posted.
>>> 15 years after self-bankruptcy ... How did the prestigious soccer shoes come back? What is the vision born from the voice of joy?

Special feature was broadcast on J Sports BOOMER

A special program of YASUDA will be broadcast on J Sports for one month from April 25, 2020. Representative Sato interviewed us and talked about the story of YASUDA reprint.
>>>J Sports BOOMER #121

Featured in FOOT×BRAIN

Appeared on FOOT×BRAIN of TV Tokyo broadcast on Saturday, March 21, 2020. On this day, the spike feature was introduced, and while the person in charge of each maker was appearing, he introduced us to YASUDA's soccer spike subscription "Excel Feed".

>>>From development story to contract! ? Soccer seen from spikes

Appeared on "Hiroshi Kume's Radio nandesukedo"

On Saturday, March 21, 2020, we appeared live on TBS radio program by Hiroshi Kume. From the inside story of the reprint to things related to new spikes and subscriptions, it was a great deal.

YASUDA appeared in FOOT×BRAIN

YASUDA appeared on FOOT×BRAIN on TV Tokyo on Sunday, March 10, 2019.
The program title is "FOOT x BRAIN [Spirit Maker YASUDA Miracle Revival]"
Thank you for watching.

Advertisement started on "Sacareko"

Advertisement has started on the soccer media "Sacareko". We also plan a year-round project.

▼Sacareco HP
https://mag.sakareco.com/

Behind-the-scenes of the revival of "Yasda" was posted on some(z)up

An interview article of our representative Sato was published in some(z)up.

"Resurrection story" was published in Rugby Republic

YASUDA's "Resurrection story" was published in Rugby Republic.

The state of the "Re-do" event conference was posted on some(z)up

YASUDA's "Restart" event was posted on some(z)up.

Published in Nikkan Sports

The reprint project of YASUDA was introduced in the daily sports newspaper.