---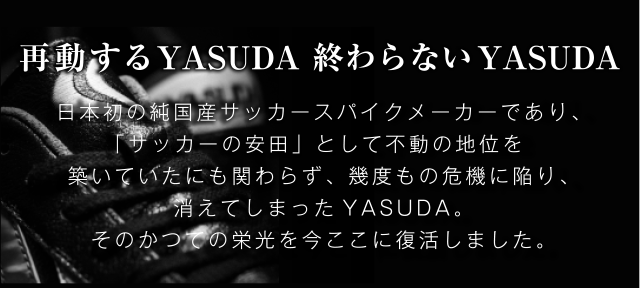 Representative of YASUDA Co., Ltd .: Kazuhiro Sato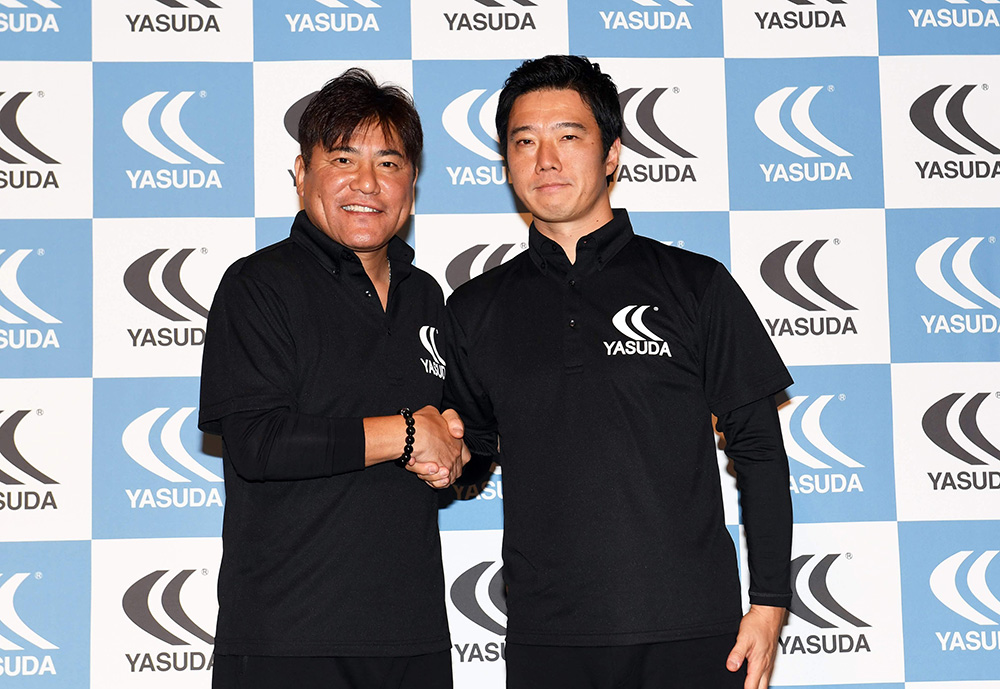 This time, we will interview Kazuhiro Sato, the representative director of YASUDA and the founder of the YASUDA reprint project.
Q: Why did Sato-san decide to reprint YASUDA?
That was the summer of 2017. After enjoying soccer with my friends as usual, I had a conversation that "I used to have YASUDA in the past, was it easy to wear, but is it still on sale?"
At that time, my memory of YASUDA came to my mind with tremendous momentum.
YASUDA's spikes helped me to become a regular when I met a sports shop for a while when I was in a frustration because I couldn't get a regular in a junior high school soccer club.
When I was interested, I looked it up and it was gone.
When I knew that it was gone, I really wanted to wear YASUDA again, so I started thinking that I could revive it myself.
That said, we don't have the generous funding to revive the shoe brand. So I decided to use crowdfunding to solicit for reprint support.
Q: Why was the method of reproduction crowdfunding?
Shouldn't it be better to receive investment or financing from the beginning? I received such advice.
However, when reviving YASUDA, I didn't think it should be done.
I'm sure many people like us want to revive YASUDA. And the YASUDA brand is not just ours. If you want to revive it, you should revive it by the hands of those who love YASUDA.
With that in mind, we chose crowdfunding as a means of revival.
We had a lot of trouble because we dared to launch the crowdfunding service itself, but the feedback we received changed our conviction.
Q: How was the road to the reprint?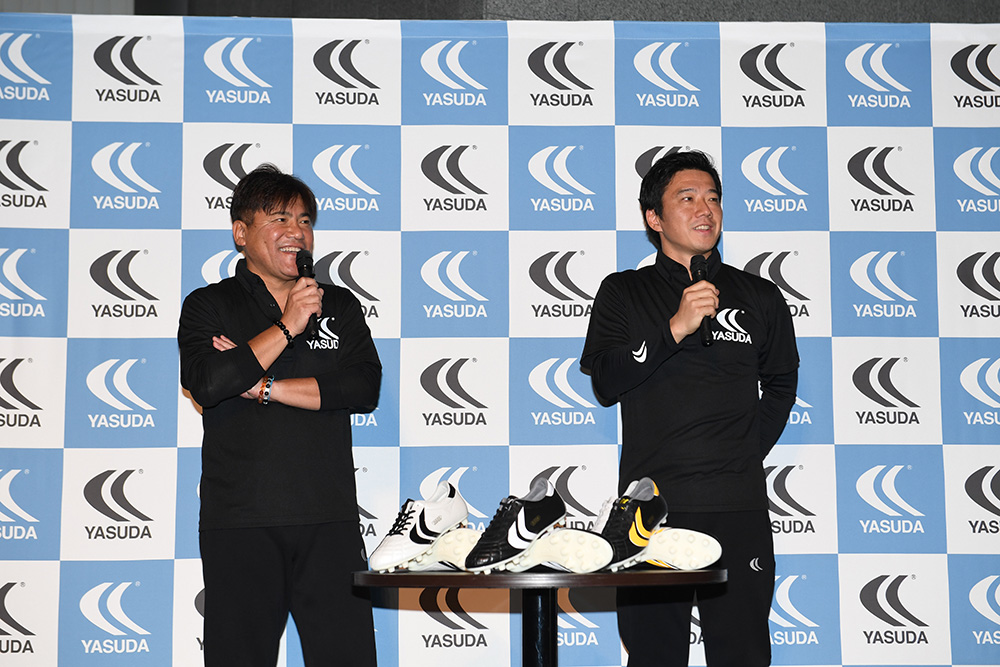 It has just been reprinted, and it is from now on, but I have the impression that I was able to come to this place because of the coincidence and relationships with so many people.
First of all, you have to have the brand right to reprint, and of course you must be able to manufacture the product. I was worried that it would be possible.
It turns out that the rights and trademarks are owned by a former YASUDA employee named Mr. Saito. Immediately when I asked, "Let's revive YASUDA's spikes together," he gave me his consent.
And the next challenge was the manufacture of spikes. I think it would have been easier if this was a T-shirt instead of spikes. However, both Saito and I thought that if we were to reprint it seriously, it would have to be a spike.
Because it was YASUDA that made Japan's first domestic soccer spike, it was necessary to be a spike.
However, it is not a substitute that can be made from scratch without funding. I'm not a shoemaker and I have no choice but to ask.
While talking with Mr. Saito, first of all, I decided to investigate whether there were any molds left at that time.
I hit several factories that I had a deal with YASUDA at that time, but all of them were closed now.
As we proceeded with further investigation, there was a factory that was still movable. When I contacted the factory, I found that there were YASUDA wooden molds and molds at that time.
Although there were problems such as the number of lots from here, I managed to clear it, and I was able to manage cloud funding.
Although we had a lot of hardships while we were crowdfunding, we were able to achieve it greatly, and we were able to revive YASUDA as a company.
Q: What are your plans for YASUDA going forward?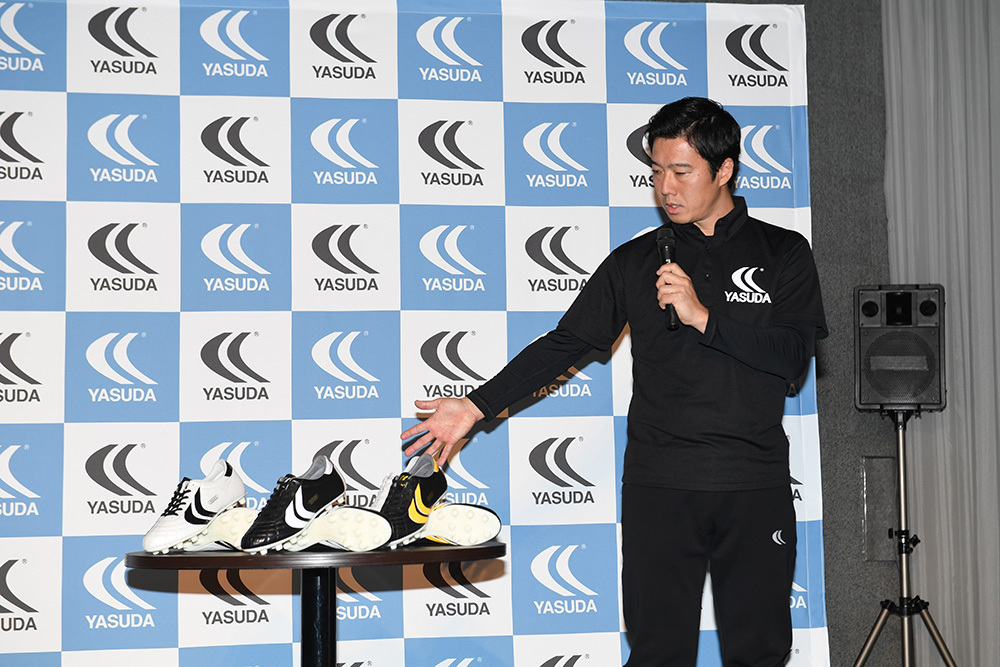 YASUDA is a manufacturer that started with soccer shoes, so we would like to start with footwear such as spikes. In addition to soccer, I plan to walk as a football maker including rugby and futsal.
We are also considering expanding into the lifestyle field, which is currently receiving a lot of voice, in the future.
In order to respond to the cheers of many people who support YASUDA, we will continue to make efforts with the thought of the founder. We look forward to your continued support of YASUDA.


Feature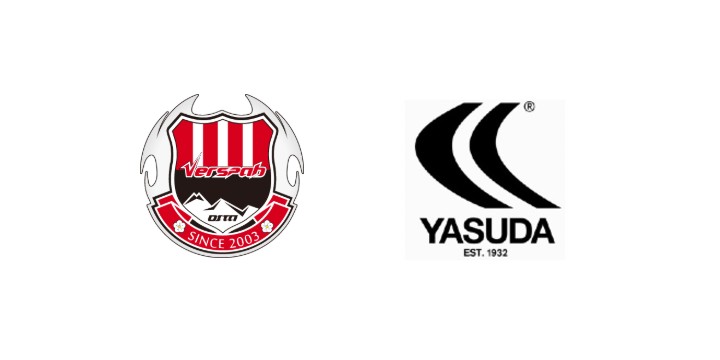 2020.11.16
2020年11月29日(日)に開催される、JFL第30節、「ヴェルスパ大分 × FC大阪」戦を「YASUDAサンクスマッチデー」として開催していただくことになりました。 「YASUDAサンクスマッチデー」について YAS […]
List of latest news articles
<Return to list

---
Register for YASUDA e-mail magazine
close